Beeline Sans font
Cyrillic support:

Yes

Latin support:

Yes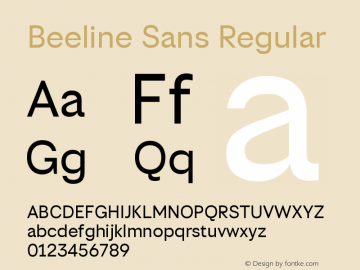 11.05.2023
128
0
Add favorites
About font:
Version:

Version 1.000;hotconv 1.0.116;makeotfexe 2.5.65601

Trademark:

Beeline Sans is a trademark of LLC Contrast Foundry (LLC CoFo).

Company:

LLC Contrast Foundry (LLC CoFo)

Designer:

Designer: Liza Rasskazova. Team: Maria Doreuli, Anna Khorash

URL:

http://www.contrastfoundry.com

License:

The Contrast Foundry Font Software is protected under domestic and international trademark and copyright law.

License URL:

https://contrastfoundry.com/license
By clicking the Download button you can see all examples of the Beeline Sans font along with all the styles.